What is coil nails?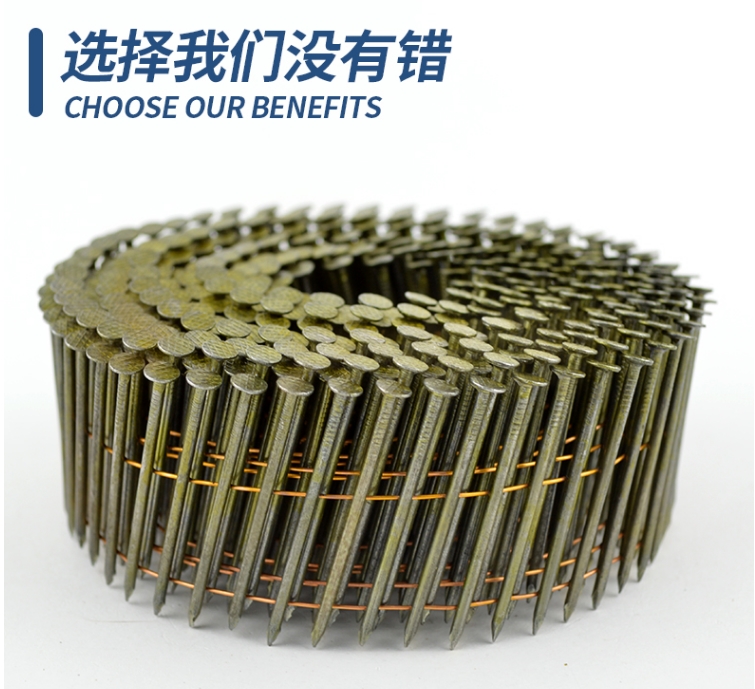 Coil nails are a type of fastener that is made of wire and then weled into nail coils. The nails will be placed in a nail gun to punch into wood or pallet.
It is made from high quality steel with a round head and spiral shank. The thickness of the nail ranges from 1.2mm to 4.1mm, while the length varies from 25mm to 130mm.
The coil nail body type:
Smooth shank.
Screw shank
Ring shank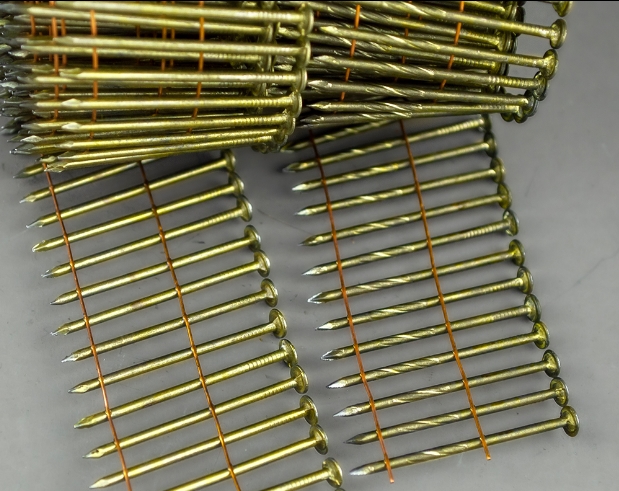 The coil nail is a very popular building tool because it makes nailing jobs much easier and faster. Without the use of this type of nail, it would be necessary to keep reloading a nail gun with individual nails. A typical nail coil contains about 350 nails, which means it must be replaced less frequently than individual nails. This saves both time and money on the job site.
The application of coil nails:
pallets, crates and packaging
roofing and decking
flooring
Furniture making
trim carpentry—outer trim-crown molding-baseboard-window trim
pallet assembly—wood pallet disassembly-new wood pallet construction
pallet repair—used wood pallets repair and recycle
construction—new building construction-commercial building remodeling
timber frame construction
cable reel making

Coil nail common used size:
For 2.1 mm diameter: 2.1x25mm, 2.1x28mm, 2.1x32mm, 2.1x38mm,2.1x45mm, 2.1x50mm
For 2.3 mm diameter: 2.3x45mm, 2.3x50mm, 2.3x55mm
For 2.5 mm diameter: 2.5x50mm, 2.5x57mm, 2.5x64mm, 2.5x70mm
For 2.8 mm diameter: 2.8x64mm, 2.8x70mm, 2.8x75mm, 2.8x80mm
For 3.1mm diameter: 3.1x90mm, 3.1x100mm, 3.1x110mm, 3.1x120mm
Price of coil nails per kg:
Siding Nails 1-1/4-Inch x .092-Inch, 15-Degree Collated Wire Coil, Full RoundHead, Ring Shank, Hot-Dipped Galvanized, 1600 Count for Rough Nailing of Lathing and Sheathing Materials: $31.
Metabo HPT 1-3/4 Inch Full Round Head Wire Coil Siding Nails| 3,600 Count : $60
How a coil nail is made:
Get steel wire nails and copper coated welding wire ready.
Use thread rolling machines to make the ring or screw shank.
Use nail collating machine to welding the nails into coils.
How to use coil nails: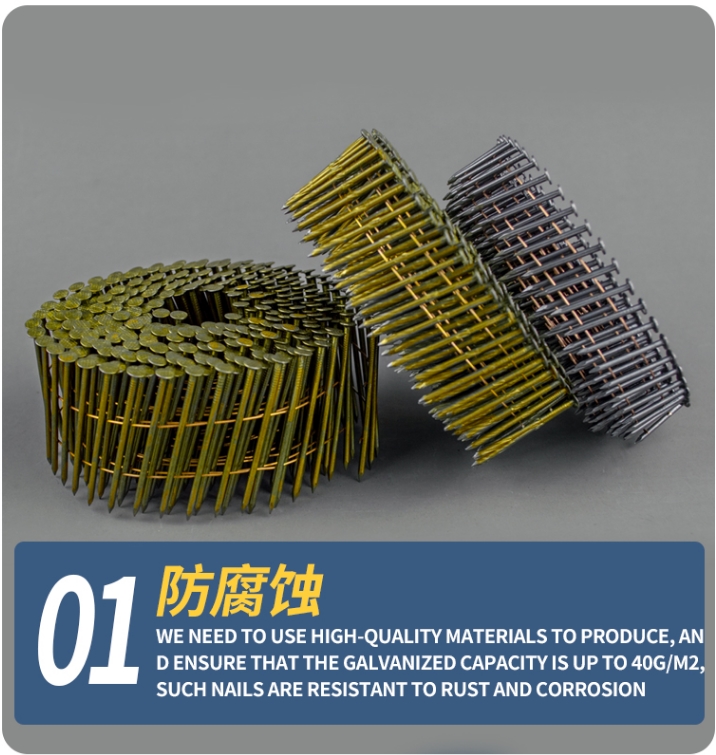 Coil nails are placed in nail gun which is powered by a power source such as electricity, compressed air or a battery. They are designed for easy one handed operation and have an adjustable depth control so that you have total control over the fastening of your coil nails.
How many nails in one coil?
For small coil , there is usually 200 – 300 pcs nails.
For big coil , there is usually 1500 – 3000 pcs nails.
What's the degree of coil nails?
15-16 degree.