barbed wire making machine
Introduction:
Barbed Wire Machine is designed to make single twist barbed wire or double twist barbed wire. It includes two main parts of wire wrap machine and barbed wire collection machine. Barbed Wire machine is a new type of guard fence and easy operation and high-capacity with low noise. Twisted number and barbed space can be customized according to customer's requirement. And also it used advanced electronic counting control system to control the output weight.
The materials to make barbed wire : Generally used is the hot -diped eletro-galvanized and PVC coated wire AISI430 and AISI304, PVC-Plated, Low Carbon Steel Wire, Thermo-Plated with Zinc etc.
Barbed wire machine is divided into 3 categories which can make the following 3 kind of barbed wire,ie
1 , Normal double twist barbed wire ,this kind is popular in Middle East, South Africa etc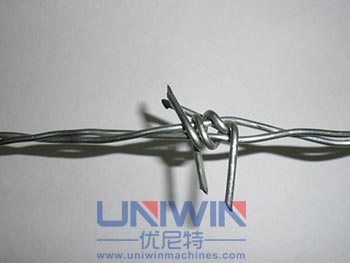 2, Normal and reverse barbed wire ,this kind is popular in Middle East, America,Kenya…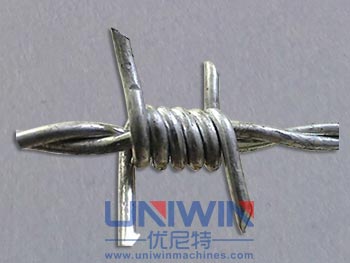 3, Single twist barbed wire machine,this kind is popular in Middle East, Saudi arab etc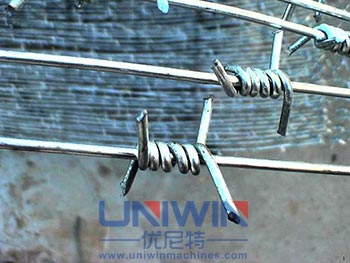 Finished products :
Parameters of the machine:
Motor: 3kw
Main drive shaft speed: 402 r/min
Rated output : 80-120 kg/h
Twisted number : 4, 6 pcs
Barbed space :76mm(3inch), 102mm(4inch) ,127mm(5inch)
Wire diameter: 1.6-2.0 mm
Barbed wire diameter :1.8-2.2mm
Main machine size: 1800mm×1200mm×1150mm
Collection wire machine size : 1200mm×900mm×900mm
Total weight: 1500kg
Applications of the barbed wire : Grassland boundary,railways ,highways, forest protection,Industrial and mining enterprises, agricultural,private villas, banks, prisons, airports, etc.
To see the videos,pls clicek the video tab .