Chain link fence making machine
It is used for making various chain link fence(diamond mesh). It consists of mesh wire forming, mesh weaving, cutting, mesh positioning, sewing and other device component.
It adopts Japanese advance technology, it is a new type of guard fence and adopts advance technology from Japan and simple operation, low noise and reasonable design, PLC control system(one person is enough for operation). We also use the Chinese famous brand motor, it can use for many years and supply 1 year warranty for whole machine. you can adjust the width of chain link fence according to your requirement (Max chain link fence width: 300mm)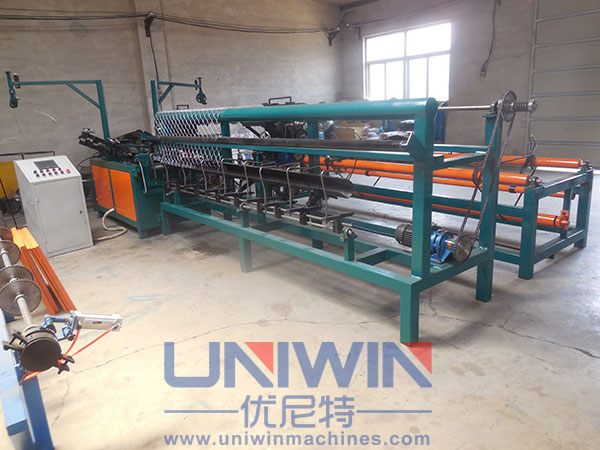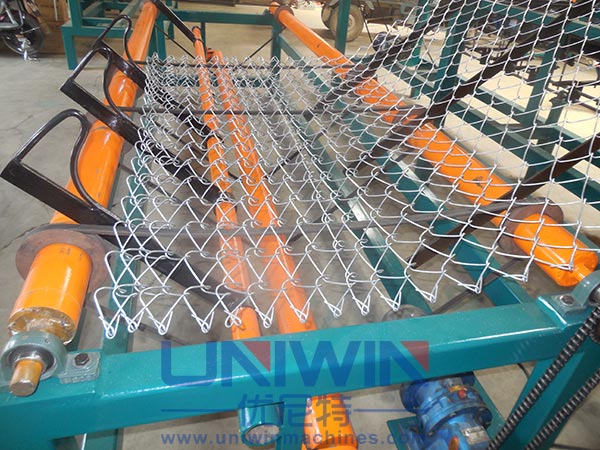 The suitable material are low-carbon steel wire, electro-galvanized wire, hot-galvanized wire, zinc-aluminum alloy wire, stainless steel wire, PVC coated wire, mild steel wires, etc.
Parameter of chain link fence machine
Speed: adjustable
Wire diameter: 1.2mm-4.0 mm
Max width: 300mm
Gap of chain link: 20mm-100mm
Capacity :80-120m2/hr
Motor (Three phase): 11 kw
Machine size: 5.5m x 3.3m x 2.0m
Weight: 3 T
Calculation formula of chain link fence:
Galvanized chain link fence :
Square meter weight (kg) = wire diameter × wire diameter × 1.335 ÷ aperture
Plastic (pvc) Chain Link Fence:
Square meter weight (kg) = wire diameter × wire diameter × 1.335 × 1.2 ÷ aperture
Advantages of chain link machine:
Weaving speed, chain link gap and chain link width is adjustable according to customer's requirement.
There is alarm device, when the production is finished, the alarm will ring.
China link fence machine is suitable for small, medium and big enterprises.
There is a controller, when the fence is twisted, it will stop automatically.
Usage of the chain link fence:
Chain link fence is widely used for sports ground, residential area, Airport, railway, Power Plant projects, workshop, Training ground etc.