Nail making machine Introduction:
The Uniwin brand nail making machine is designed to make 1-6 inch wire nails and steel nails.
Z94-4C Nail Making Machine Parameters (The hot sale model):
Nail Diameter: 3.0-4.5 mm
Nail Length: 50-100 mm
Motor Power: 4kw
Speed: 220 pcs/min.
Diemension: 2350x1480x1400mm
Weight: 1950 kg
What is wire nails?
Wire nails are made by Q195/SAE1008 cold drawing wire, which has a round flat head with a smooth nail body, typically driven into the workpiece by a hammer, mostly used for rough carpentry or heavy-duty woodwork.
Steel wire for nails making:
Concerning the raw material steel wire SAE1008/Q195 to make nails, there are two types:
Wire rods of 6.5mm or 5.5mm, per roll around 2 tons, this type, it will need a wire drawing machine to draw it to smaller diameters such as 4.5mm, 3.7mm, 2.5mm for making different sizes of nails.
Cold drawing wire (already drawn wire that can be used for making nails directly), per roll around 300kg, diameter for example 4.5mm, 3.7mm, 2.5mm.
Both of these two types you can source locally or import from China from steel wire suppliers. Please contact us to get the wire supplier's contact details.
Nail Production Process:
The Process to make nails is :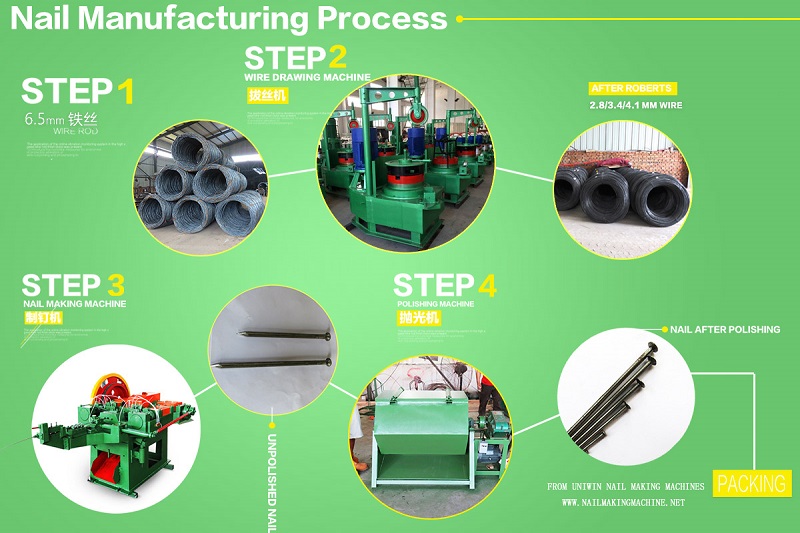 Ie draws the raw material of wire rods of 6.5mm or 5.5mm diameter(usually 2-3 tons per coil), to small wire coils (200-300 kg per coil) of diameter such as 4.5mm,4.1mm,3.4mm,2.8mm, etc needed for making nails by the wire drawing machine, after this, put the small wire coils on a wire reel, from which the steel wire was feed into the nail making machines to make nails, after the wire is cut to nails, it needs to polish the nails to remove the iron dust on the nail shaft and make it become bright and good looking, then packaging.
Nail-making machine 3D drawing: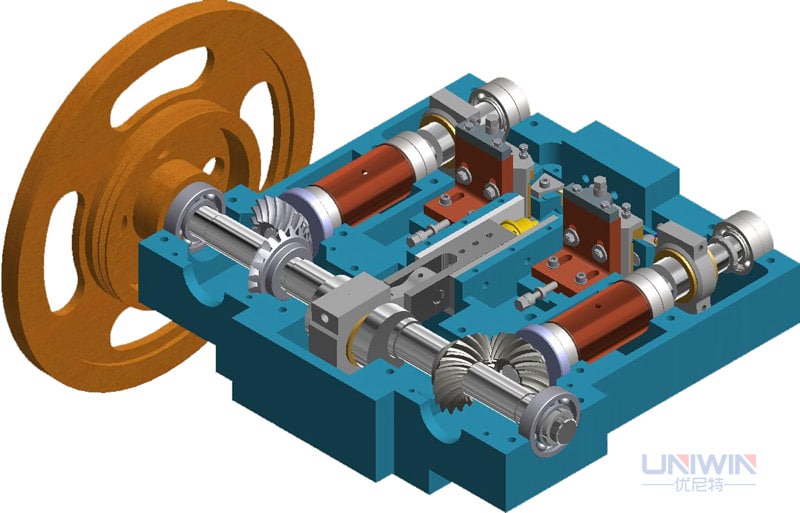 From the drawing, we can see the main structure of the nail-making machine, including the big wheel, mainframe, motor, discharge hopper, wire feeding mechanism, straightening mechanism, punching mechanism, mold mechanism, nail cutter cutting Mechanism, and gear transmission mechanism.
Nail Making Machine Working Principle:
The Z94 nail-making machine uses Taiwan nail-making technology, by straightening the wire, feeding the wire, cutting to form the nail tip, punching to form the nail cap, and so on to make nails.
The Z94 nail machine is a fully automatic machine for the production of wire nails. It is powered by a motor. There is a switch on the machine. After the machine is turned on, according to different wire diameters, a coil of iron wire can be used for 4-8 hours without stopping.
Z94 nail producing machine, controlled by a switch, works without a frequency converter and control cabinet, It is simple operation and speed non-adjustable.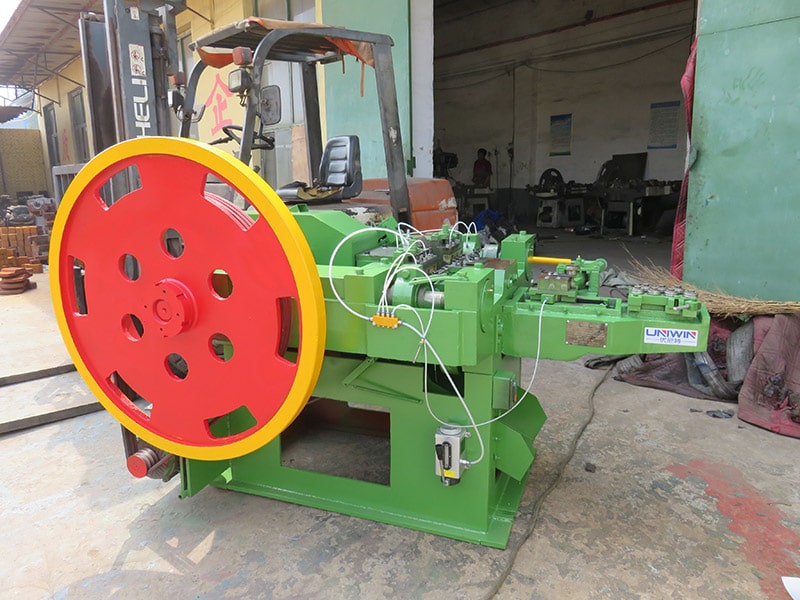 How to make nails with a nail making machine?
Wire Drawing: Draw the wire rods from 6.5/5.5mm to a smaller diameter for example 4.5mm, 3.4mm for making nails.
Nail Making: Feed the 4.5/3.4mm black steel wire to make nails.
Nail Polishing: Add sawdust in the nail polishing drum to polish the nails and make them bright.
Packing: Packaging the nails in bags or cartons.
The nail making machine is the most important equipment in the nail making process. If there is already drawn iron wire available, then only a nail production machine itself can complete the nail-making job. According to the different nail sizes that need to be made, choose the appropriate nail machine model.
What types of nails can be made:
Our nail making machine can make wire nails, steel nails, coil nails, concrete nails, and big cap nails.
Advantages of Uniwin machine:
1- Factory direct sales, the best price.
2- 30 years of production experience in nail making machines, improve product quality from the details and minimize the machine failure rate.
3- Because we are factory, we can quickly and timely provide accessories in the future at any time.
4- We can provide installation and after-sales support in many countries. For example, in Zimbabwe, Kenya, Saudi Arabia, Turkey, we have teams that can provide installation and training services.
5- High speed, we have also the high-speed nail machine which can make 800 pcs nails per min and 1500 pcs/min.
Specifications:

Testing video:
common nails made from this testing, after polishing, the black nails will become bright and shiny!

Nail Making Machine Types and Their difference
Z94-C traditional type nail machine: speed 200-450 pcs/min.
Enkotec rotary type nail machine: speed 1000-2000 pcs/min.
Wafios high speed type nail machine: speed 600-800 pcs/min.
Manufacturing workshop: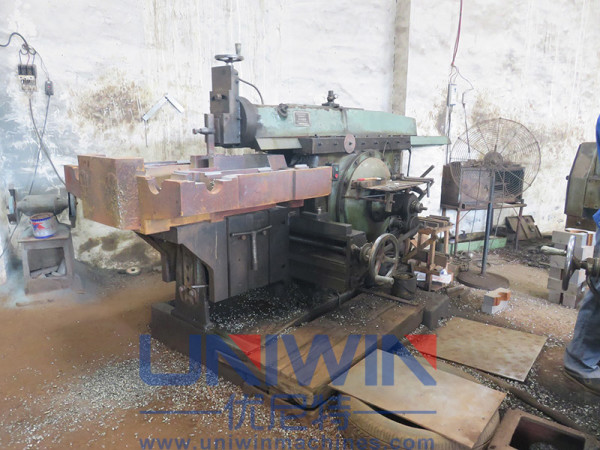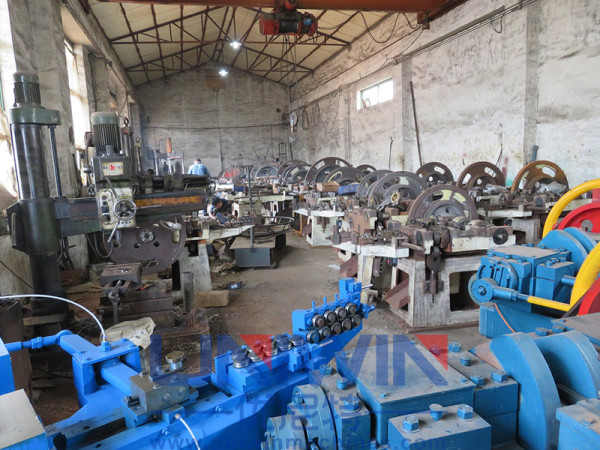 Machines after painting :
We can paint the nail machines according to the customer's requirements.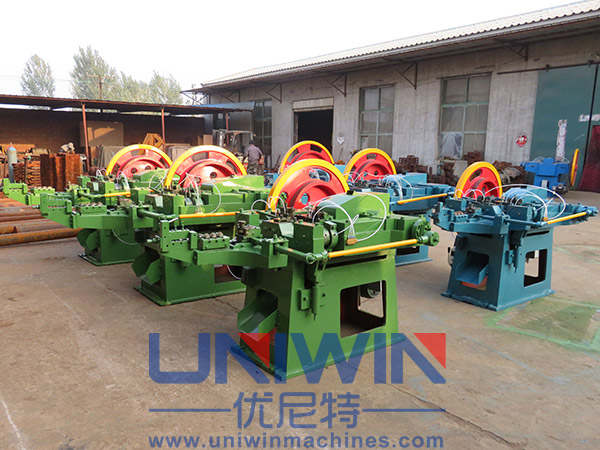 Delivery Pictures: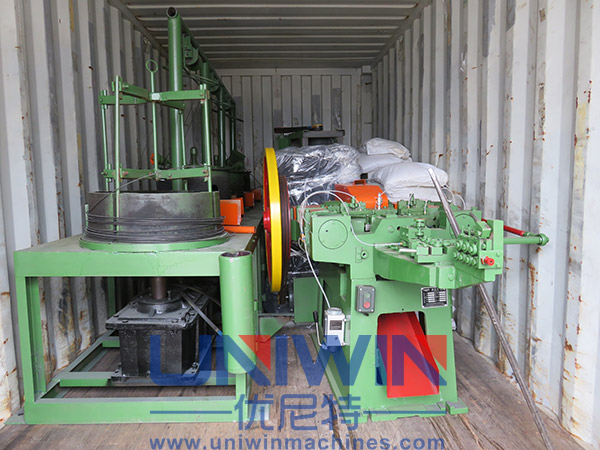 Profession makes you success, welcome to contact us for more info about the nail making business!
Our Customers from Kenya, Tanzania, Nigeria, Ghana, Rwanda, and South Africa: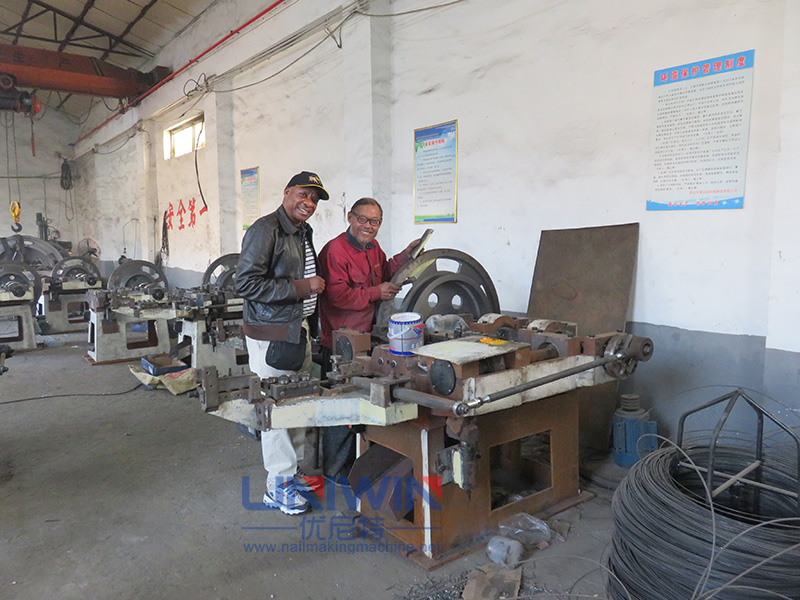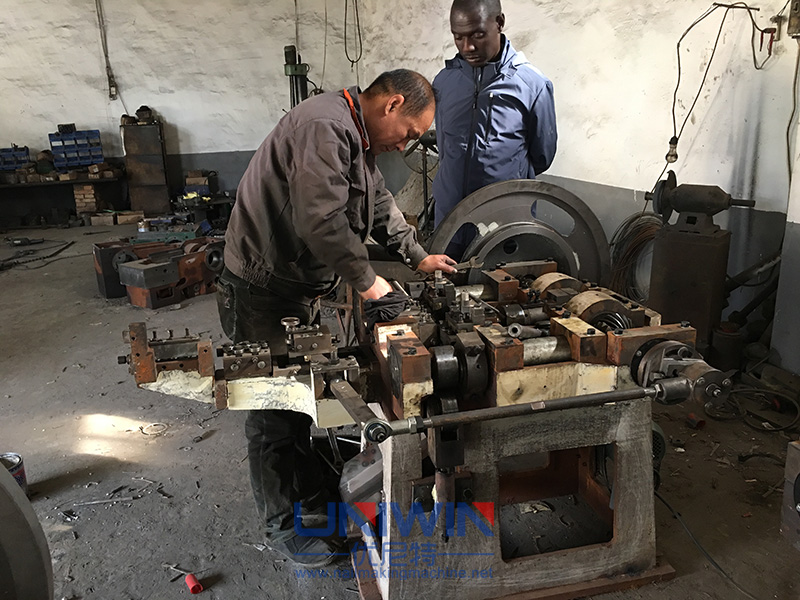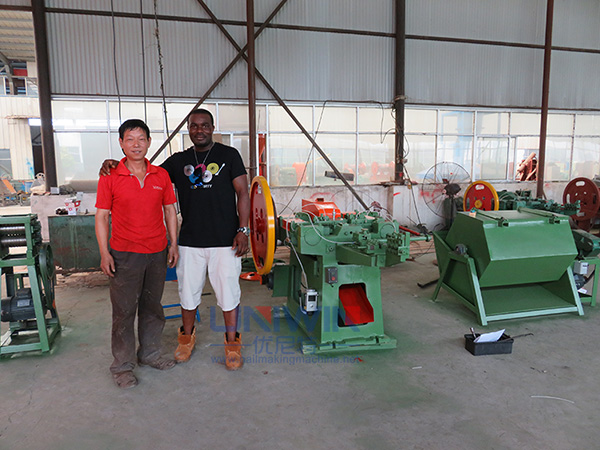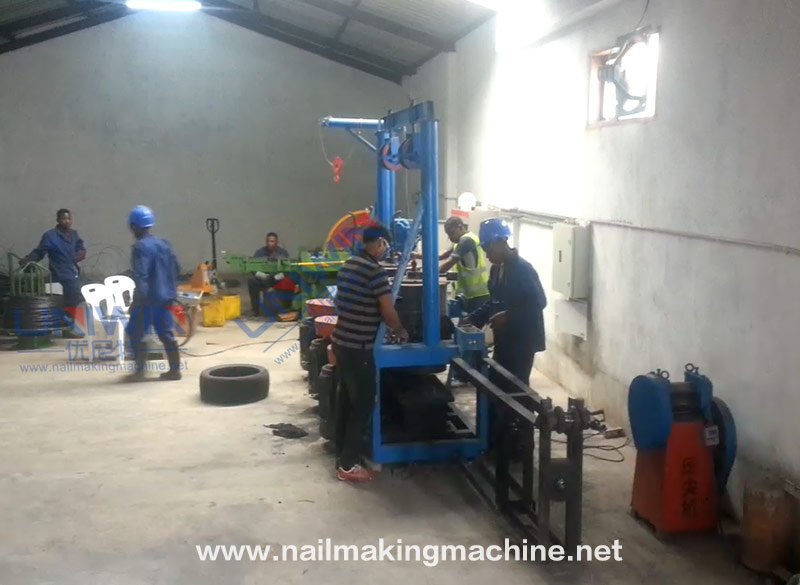 Uniwin Nail Machine, Nail Making Machine Expert in China!
Training Videos:
To see the nail-making machine training videos, please visit the following link:
https://www.uniwinmachines.com/training-video/
Operation manual:
please open this link to down the Uniwin nail making machine brochure/catalog:
https://drive.google.com/open?id=1ceIwtfQrpVdaJbEUrhrJf6pwzueJyg0Q
Nail Making Machine FAQ:
https://www.uniwinmachines.com/nail-making-machine-faq/
Video: How a wire nail is made?