Coil nail making machine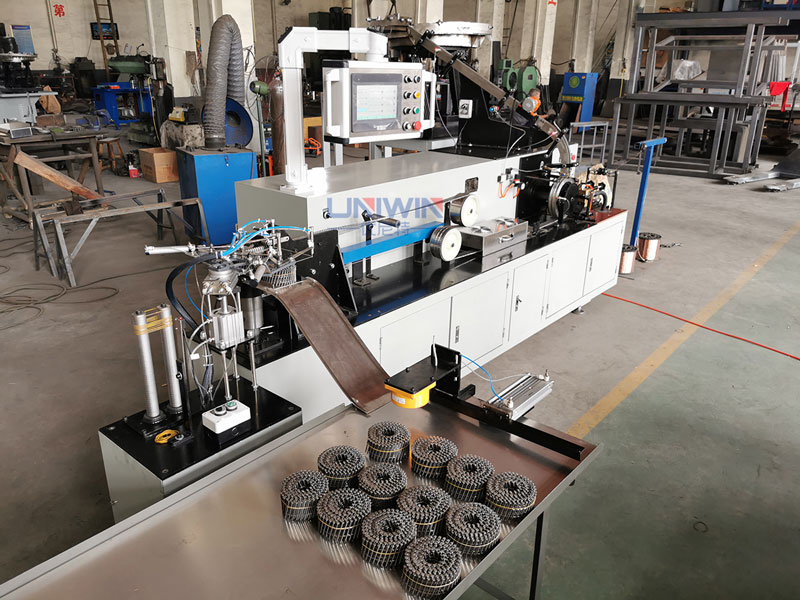 Coil nail making machine is also called coil nail collator , it is a kind of nail making equipment to make coil nails used in nail gun .The coil nail is composed of a certain quantity of same shape nails with same distance, connected by copper plated steel wire ,the connecting wire is in a direction of β angle with respect to the center line of each nail, then rolled in coil or bulks.Coil nails can save efforts and improve productivity greatly.
Coil nails drawing :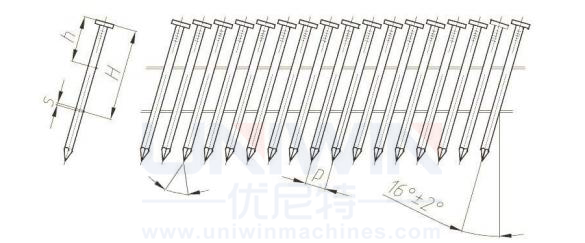 The process to make coil nails is :
Making wire nails first ,after getting wire nails ,use the thread rolling machine to get different kind of threaded nails ,ring shape or screw shape etc ,after this ,put these nails into the Vibration plate so that they will be feed into the coil nail making machine and be welded into coils .
The common used coil nails specifications in China and other countries such as Mexico ,Uzbekistan,USA, Brazil,India,Saudi Arabia, UAE , Vietnam etc are :
Length :38 mm ,diameter :2.1 mmLength :50 mm ,diameter :2.3 mm
Length :64 mm ,diameter :2.5/2.8 mm
Length :75/80 mm ,diameter :2.8/3.0 mm
Remarks :we can customize the moulds for different size of nails .
This is a video of the coil nail making machine working  in our Chinese customer factory , you can see in the video of the welding speed 2300 pcs/min.
Advantages of UNIWIN machinery coil nail making machine:
More functions, more complete
Patented cutting technology, greatly reducing the probability of not cut
Automatic shutdown if the coil is cut off
Automatic shutdown when welding wire is broken
Stop when the rubber band is used up
Perfect protection, the touch screen will display the fault reason
Faster speed, 2500 pcs/min for 50mm long nails, 3000 pcs/min for 38mm long nails
Features of UNIWIN machinery coil nail making machine:
The newly developed welding seat mechanism eliminates the need to adjust the height of the welding seat, then it will reduce the coil nail welding waste, and also reduces the technical requirements for welding adjustment.
The finished product platform stores more finished products and is more practical. It can hold 60 rolls of finished coil nails.
All parameter settings can be completed with only a 10-inch touch screen
Compact machine, reducing floor space
The mechanical structure and pneumatic control are simpler, convenient to adjust, and reduce the failure rate.
New Design Automatic coil nail collecting System:
Detailed configuation of coil nail making machines:
1. Feeder Bowl: Diameter 730mm,5 magnets, 6 spring blocks, 0 air nozless, UNIWIN vibrating system
2. Straight steep down rail: 1,400 mm length, 30° adjustment of alighment
3. High frequency inverter welder:2000A-3000A, 7V.
4. Coiler: flat, and roofing type coiling (conical coil)
5. Auto rubber band system available – yes.
6. Carrier armed touch screen computer control.
7. Power: 380-415 V, 3-phase, 50 Hz, estimated consumption about 5kw.
8. Air consumption –6 bar, 0.6 m3/min.
Detailed pictures of the welding point of the Collated Coil Nail:


Different kind of Coil nails made from the nail collator machine (smooth nail body ,ring type nail body ,screw type nail body):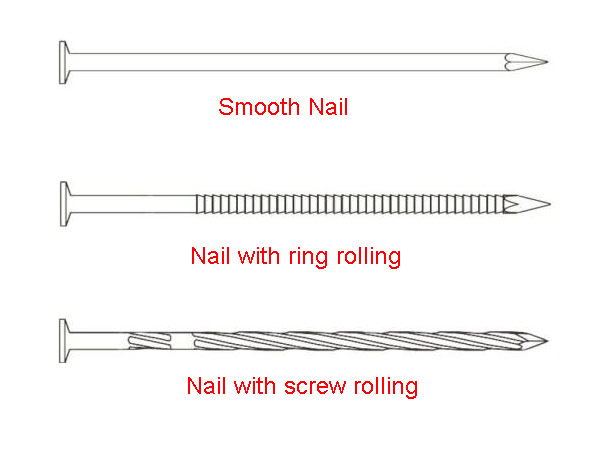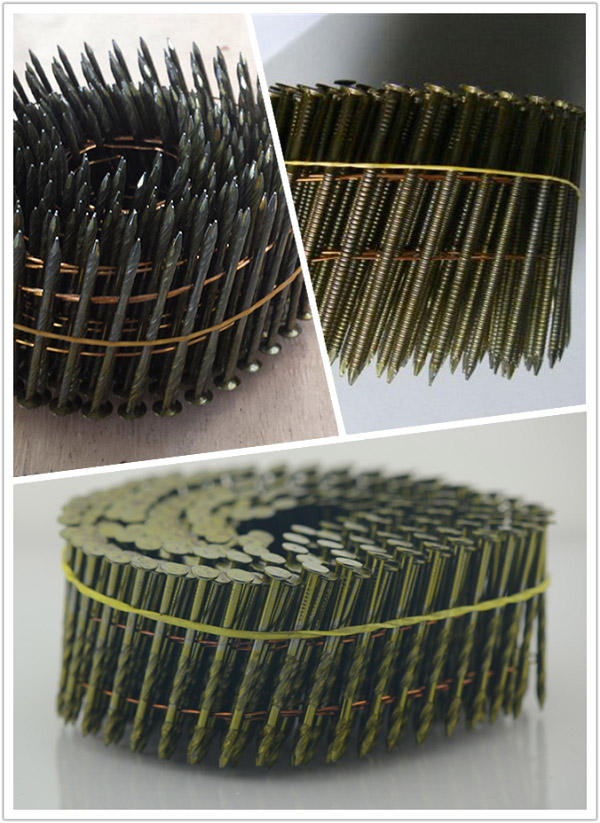 FAQ about coil nail making machines:
What's the max length of the coil nails this JD-100 nail collator can weld?

This nail collator can weld 25-100mm coil nails with max speed 3000 pcs/min, the smaller the nails, the higher welding speed.

What's the welding speed for different size coil nails?

For Diameter: 2.0-2.1mm, Length: 32-38mm, Speed around 3000 pcs/min.

For Diameter: 2.3-2.5mm, Length: 50-60mm, Speed around 2600 pcs/min.

F0r Diameter: 2.8-3.1mm, Length: 70-80mm, Speed around 2200-2400 pcs/min.

For Diameter: 3.3 mm, Length: 80mm. Speed around 1600-1800 pcs/min.

How to select the suitable size of coil nail Collator mould (welding gear)?

When selecting the mould for coil nail welding machine,there are 3 parameters to consider:

1,How many grooves are in a circle of the mold (related to the length):

There are 3 numbers of grooves for the moulds:

75 grooves for 100mm and longer nails.

94 grooves for 45-100 mm nails.

115 grooves for 25-38 mm nails.

2, The diameter of the nail:

Nail diameter: plus or minus 10% of the applicable range, for example, the mold of 2.1 mm can also work for diameter of 2.0, 2.2mm.

3, The thickness of the mold:

The thickness of the mold:When the nail length is bigger than 80mm coil nail welding machine mould thickness is 60mm, and when the nail length less than 80mm then the mould thickness is 45mm.

Common used models of the nail collator mould(welding gear):

115 grooves, wire diameter 2.0mm (make length of 25-38 mm coil nails, diameter of 1.9-2.1mm)

94 grooves, wire diameter 2.3mm (make length of 45-75 mm coil nails, diameter of 2.1-2.5 mm)

94 grooves, wire diameter 2.8mm (make length of 45-100 mm nails, diameter of 2.6-3.0 mm)
The application of coil nails :
Coil nails can be used in many places such as construction ,assembly of various wooden container (pallets ,europallets,wooden boxes ,furniture,etc).
Coil Nail Collator and copper coated welding wire loading pictures: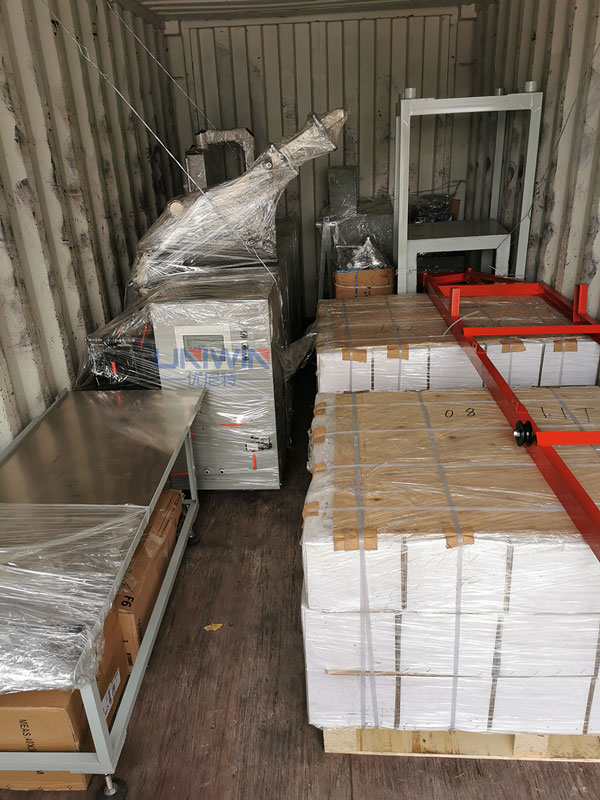 Related products
1,Nail gun
2,Copper wire for coil nail making
3,Quick dry paint
4,Coil nails