Coil Nail Thread rolling machines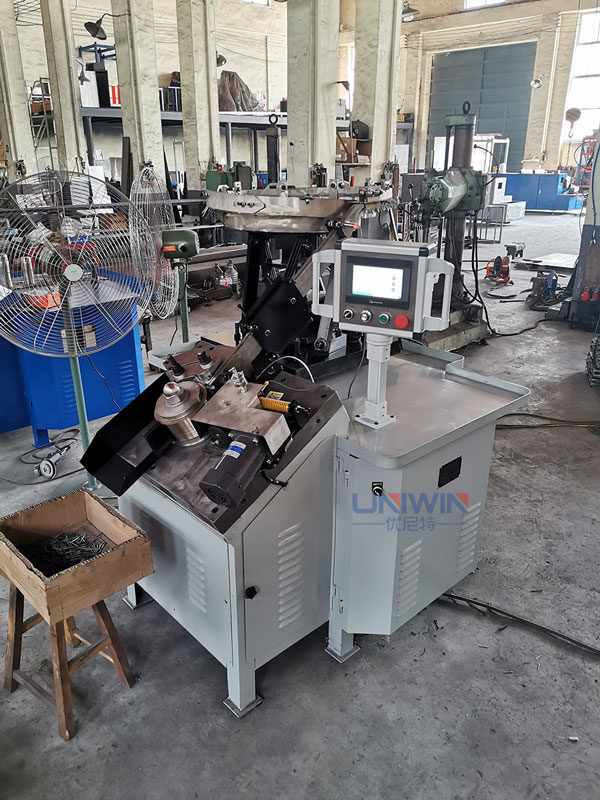 Thread rolling machine is designed to make the screws on the nail body ,especially for the coil nails ,roofing nails . it can make different kind of screws by changing moulds .
The Process to make coil nails is :
1- Make the thread or ring on the wire nail body.
2- Welding the nails into coils by coil nail making machine.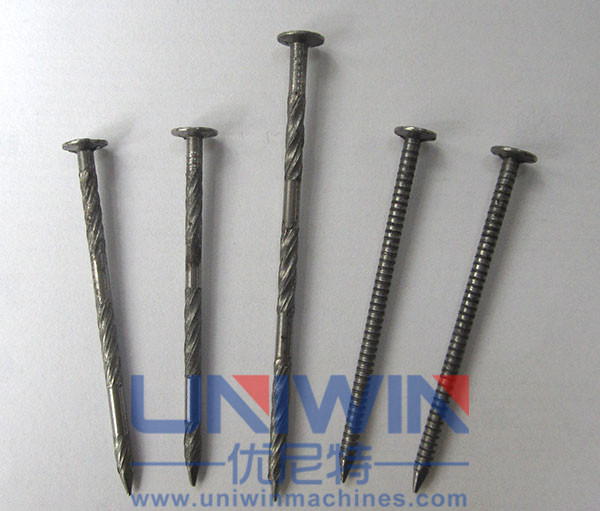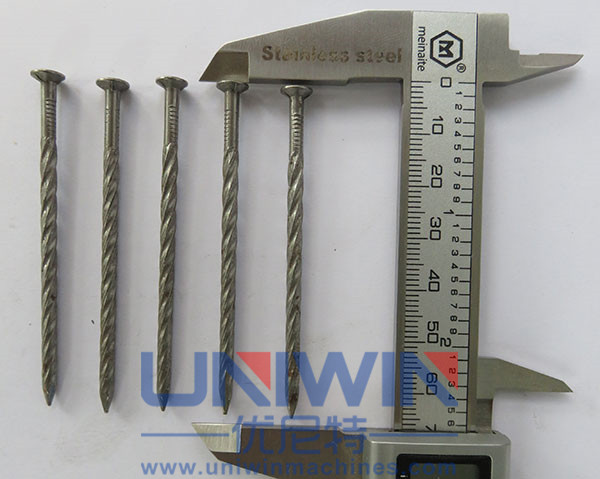 Parameters of the AGS-80 Thread rolling machine :
Model :AGS-80
Length :25-100 mm (80 mm screws)
Diameter:1.9-4.1 mm
Speed :500-1800(pcs/min),speed adjustable
Power :7.5Kw
Size :1200*1200*1400 mm
Weight :1400Kg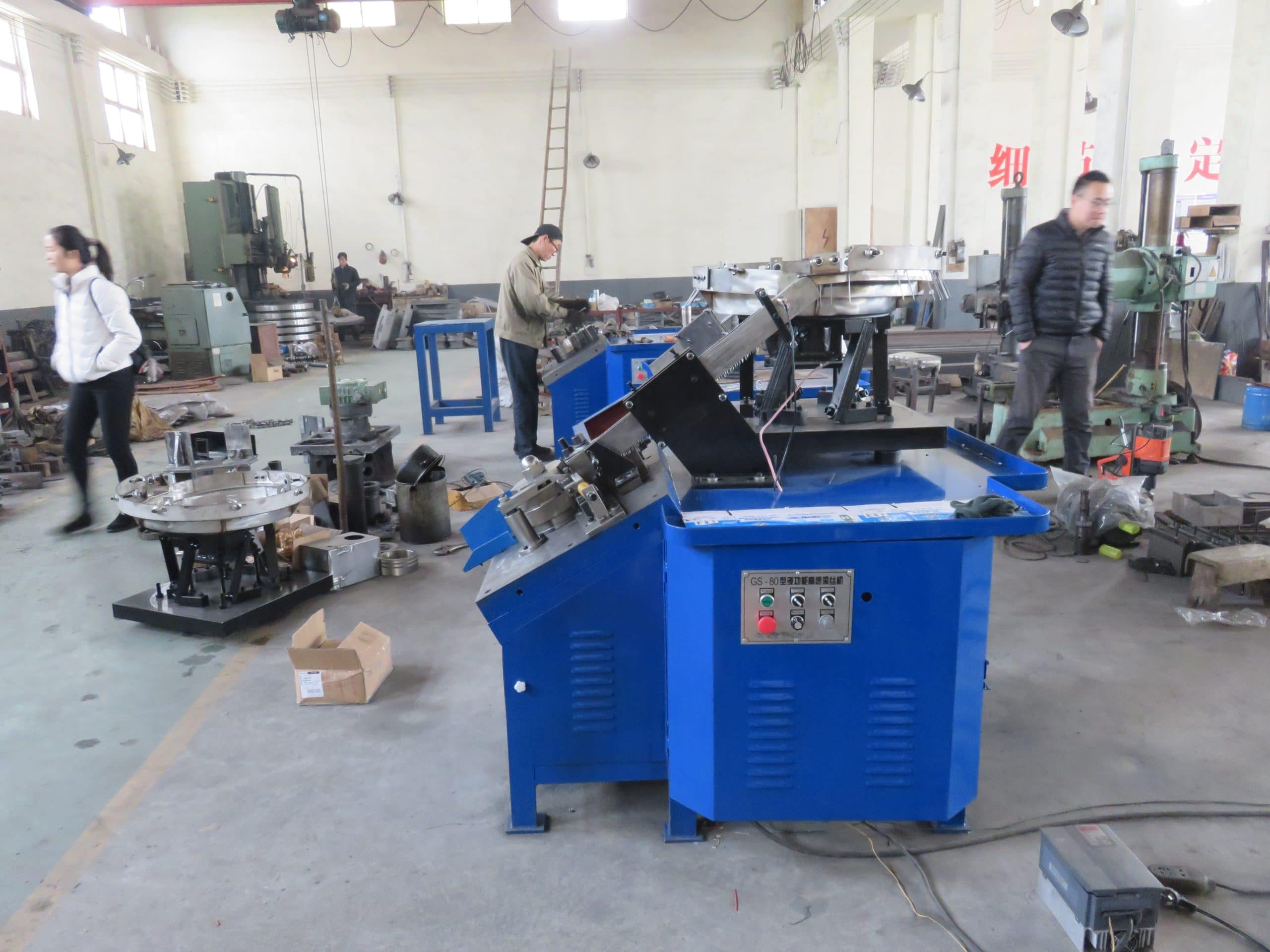 Note: For the common speed model GS 80 nail threading machine the max speed is 1200 pcs/min.
This is most common used model ,if you have specical requirements to make max 130mm ,150mm coil nails ,we can also customize the machine to meet your requirements.
Nail Threading Machine videos:
Thread rolling machine made for our Turkey customers to make full ring coil nails 2.8×90 mm:
High Speed Thread rolling machine AGS series speed reference for different nail size:
For Diameter: 2.0-2.1mm, Length: 32-38mm, Speed around 1600-1800 pcs/min.
For Diameter: 2.3-2.5mm, Length: 50-60mm, Speed around 1600-1800 pcs/min.
F0r Diameter: 2.8-3.1mm, Length: 70-80mm, Speed around 1200-1400 pcs/min.
For Diameter: 3.3 mm, Length: 80mm. Speed around 800-1000 pcs/min.
Features:
20 years production experience makes the machines running stable ,easy to use and few problems.
Specical Alloy moulds which can last longer
Mengniu brand motor ,Chinese best motor
High speed working
Life long after sales service
Equipment list:
Thread rolling main machine
heavy vibration plate for feeding(weight 250kg ,dia 750mm)
thread rolling moulds
Sensor
Switch
Relays etc
FAQ about high speed thread rolling machine:
How to select the suitable thread rolling die for thread rolling machine?
When selecting the mould for nail threading machine,there are 3 parameters to consider:
The welding point (reserved  position for the welding wire)
The diameter of the nail
The shape of the texture (ring or screw shank).
Concerning the reserved  position for the welding wire: the position where the nail is not rolled or threaded.
For Nail Length 25-38mm,the standard is 8-19mm
For Nail Length 45-100mm, the standard is 19-37 mm.
Nail diameter: plus or minus 10% of the applicable range, for example, the mold of 2.1mm can also be used for 2.0 and 2.2mm.
The shape of the texture:
Commonly used screw thread (also known as twist pattern) has a certain angle, usually 25 degrees.
Ring pattern, ring after ring, the parameter is the distance between the two rings.
Commonly used models:
Thread 8-19 welding position, wire diameter 2.0 (make 25-38 long nails with 1.9-2.1 diameter)
Thread 19-37 welding position, wire diameter 2.3 (make 45-100 long nails with 2.1-2.5 diameter)
Thread 19-37 welding position, wire diameter 2.8 (make 45-100 long nails with 2.5-3.1 diameter)
Thread Rolling Machine Reference in our customers' factory: