There are several types nail-making technology in the current nail making industries, different nail making machines they have also different design, different structures, and working principles, and different characteristics such as the running speed, the nail size and nail types they can make, this article will show you the Nail Making Machine Types and Their difference.
Z94 Series Traditional Type Nail Making Machines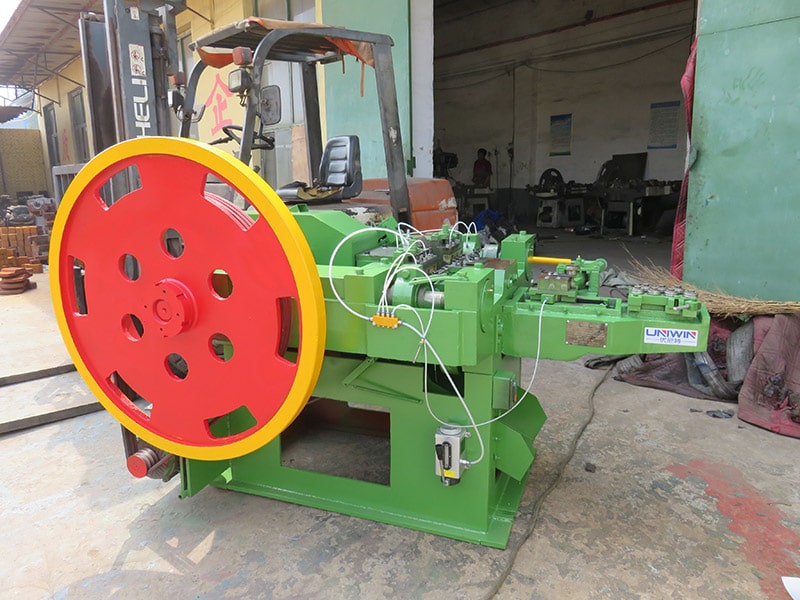 Working principle:
The machine has only one piece punch bar, one pair nail die, and one pair nail cutter, the machine nail die will grip the steel wire and the punch bar will punch to get the nail head, and the nail cutter to cut the nail point. this structure decides that it can make only one nail per time.
The z94 type nail-making machine adopts a plunger structure, driven by 3 phase electric motor and is equipped with auto oil pipe lubrication.
wire nail making process:
Wire Straightening: the cold drawn wire put on the wire payoff is straightened by the straightening device in the front.
Wire Feed: The feeding box will grip and feed the steel wire continuously.
Cold heading to form the nail head: When the steel wire is clamped by the gripping mechanism, the punch system will punch the wire to form the nail head.
Cutting to form the nail tip: After the extrusion is completed, the cutting mechanism can cut the wire, and an emergency return mechanism can be used.
The gripping die open, the nail is dropped down and the next nail will be made continuously.
Advantages of the z94 series nail making machine:
Can make a wide range of wire nails from 1 to 6 inches:
From wire straightening to feeding the wire cutting for nail tip formation, The Z94 series is specifically designed to produce strong wire nails ranging from size from 1-6 Inches.
Especially in Africa, customers like strong iron nails which have a big nail diameter, then the z94 series nail machine is the ideal type for it.
Uniwin's Z94 Series machine is fully automatic and uses Taiwan nail-making technology in the nail production process, this type is the most mature nail making design in the world yet, low running cost, cheap spare parts price and nail size very easy to adjust.
This type can produce nails min diameter from 1.6mm for 1-inch nails to max diameter 6mm for 6 length. It is relatively more efficient in terms of power consumption as with just 4 kilowatts of power. Furthermore, it produces an average of 220-450 pieces of nails every minute varies from different nail sizes.
Easy on nail adjustment:
To manufacturer different sizes of nails, the adjustment is mainly to adjust the nail diameter and nail length, for z94 type, it is very simple and easy to adjust them.
To change the nail diameter and change the nail mold, it takes only 10 minutes.
To adjust the nail length, nothing needs to be changed and it takes only 5 minutes.
To make nails with different diameters, it needs to change nail die (nail mould) with the corresponding diameter(for example, if the steel wire is 2.5mm, then it will need 2.5mm nail die if the steel wire is 3.7mm, then it will need a 3.7mm nail die).
Video: how to adjust nail length:
In one machine model, the cutter and head punch is same for all nail size and no need to change when adjusting the nail length.
The nail die, nail cutter and punch bar dimensions for different nail machine models is also different.
Low running cost:
Concerning the consumables, Nail mould, nail cutter and the punch bar are almost all what you need to change during the running of the z94 wire nail machines.
And their cost is only around $10, 20, 25 separately, but they can last around 2-6 months, so the running cost is very low.
For the machine lubrication, it needs only several liters machine oil and grease per year, so $20 is enough for the lubrication of the machines.
Nail Making Machine output per hour:
Output per 8 hours for 1 inch, 2 inch, 3 inch, 4 inch, 5 inch and 6 inch wire nails from different nail machine models:
The capacity per 8 hours of each model for each nail size is as follows:
Z94-5c output:6 inch nails: 4000 kg, 5 inch nails: 2000 kg; Z94-4c output: 4 inch nails:1200 kg,  3 inch nails:700 kg; Z94-3c output: 3 inch nails: 800 kg, 2 inch nails:300 kg, Z94-2c output: 2 inch nails: 350 kg, 1 inch nails:40 kg; Z94-1C output: 1 inch nails: 450*60*8/4130=50 kg
Uniwin Machinery is one of the famous brand nail-making machine manufacturers with over three decades of experience in the industry. Today, over 90% of the world's nail-making factories have a Z94 Series model traditional wire nail machine.
Our company has harnessed the knowledge gathered through these years of making nail-making machines to optimize their devices in terms of efficiency and quality of nails produced while minimizing breakdowns.
Additionally, Unwin Machinery offers good after-sale services for their machines, including quick delivery and installation of the machine and spare parts and accessories. These services are available in over five countries across over three continents. To ensure the machine is used correctly, the company offers free training for the buyer's team of machine operators.
Disadvantages :
1- The Z94 series is characterized by a switch control and running without a frequency converter and control cabinet. The machine speed is non-adjustable.
2- Speed is relatively low compared with the Enkotec or Wafios or Zeus high-speed type nail machine.
Pricing:
The Z94 Series nail-making machine is sold directly from factory Uniwin Machinery, so its price is affordable and much cheaper than that from the trading company suppliers some B2B trading platforms. The prices shown on some B2B platforms such as Alibaba, Indiamart is only for reference, the real price may have a big difference when you send the suppliers inquires.
Introduction: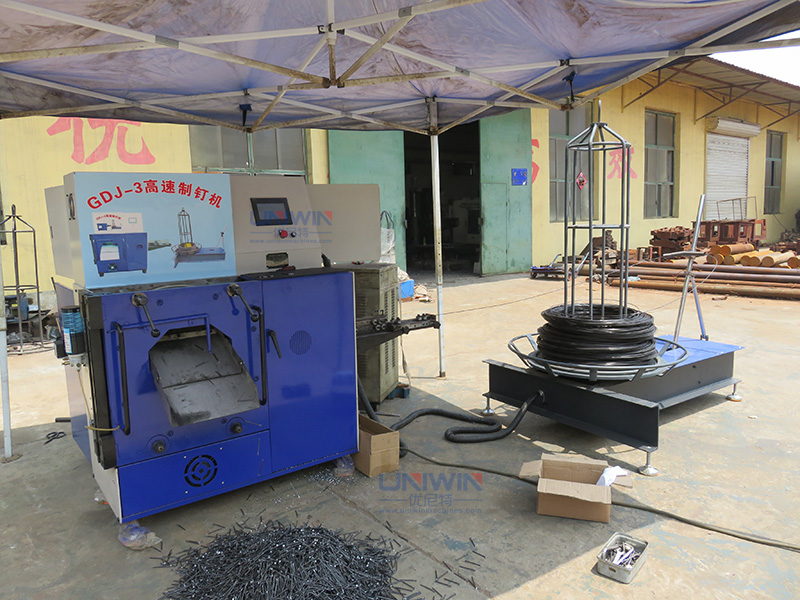 The Enkotec rotary nail manufacturing machine is the core of Enkotec's product program. This machine is the culmination of over 35 years of nail-making machine manufacturing experience and expertise. Enkotec is constantly looking for ways to improve the already advanced current model based on feedback from their customers.
This type of machine updates and new models are composed of features meant to improve the quality of nails produced.
Also, it increases the production rate, makes the operation of the machine more effortless, and ultimately reduces the overall operation cost involved in nail production.
Advantages of the Enkotec high-speed type machine:
High Nail Making Speed:
The speed can reach up to 1000-2000 pcs/minute depending on the nail size and machine model, The speed is 3-5 times higher than the traditional type z94 nail-making machine.
It is based on a rotary forming principle that seamlessly carries out processes such as wire feeding, cutting, and head forming in a continuous loop of rotating motions.
This rotary forming principle is an immensely efficient means of nail making. It features a double capacity, which leads to higher nail quality, more minor space requirements, and ease of use since it requires fewer operators and can be fully automated and completely unmanned.
Auto Lubrication:
It is also used in a sustainable and oil-free manufacturing process that due to encapsulation and the finely tuned machine produces relatively lower levels of noise pollution.
Fewer workers and workshop size required.
Speed adjustable and control by touch screen.
There is a frequency converter in the control box so it can adjust the machine speed by changing the frequency.
The Enkotec technology machines are currently the most effective and efficient nail-making machines in the nail making industry. The Enkosmart machines feature an ENKOsmart software touch screen that takes its production efficiency to new heights through the innovative sensor technology, which keeps quality high by troubleshooting any trouble much faster than other machines and operators.
Disadvantages:
1- The machine is very expensive, the price is more than 10 times higher than the traditional z94 nail making machine.
2- This type machine has a limited nail size that can make, usually it can make only 40-100mm nail size.
3- The nail diameter this type of machine can make usually not big, mainly used for thin wire nails or coil nails, The small diameters also mean the nails will not be so strong when a hammer punches it.
4- It needs very high precision on both steel wire and the spare parts dimensions.
5- It needs very skilled operators to operate this machine, The structure of this type is complex, and not easy to adjust.
6- It is very complex to change the nail size to make since there are 60-80 pcs nail die and 12-18 cutters on the cutting system, so it takes almost one day to change all the nail die and get it adjusted after changing the nail size to make.
Pricing:
Since Enkotec nail machines are made in Denmark, The price of Enkotec is very high compared with the other nail making machine types. The price of a single Enkotec nail-making machine can be up to USD 200000 hence not affordable for many nail-making factories.
Wafios Nail Making Machine Introduction: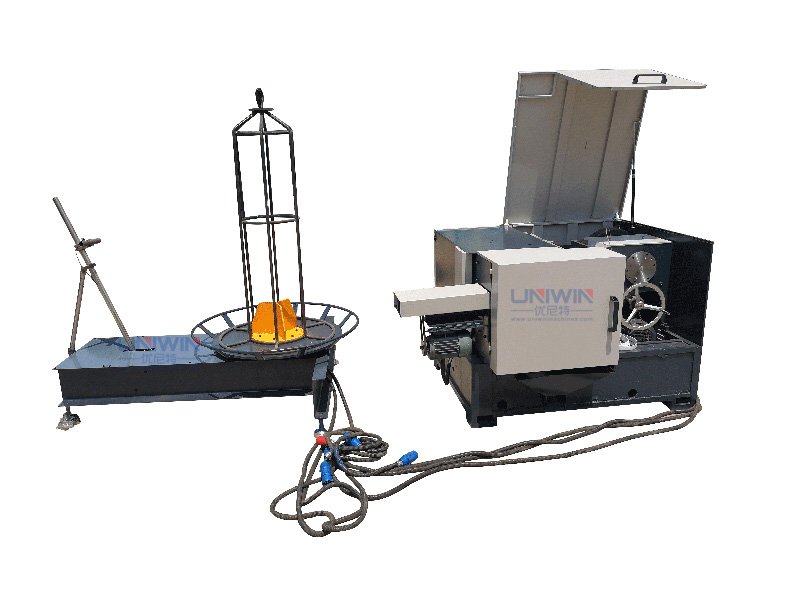 This state-of-the-art engineering masterpiece redefines the nail-making process in the industry. Wafios made the groundbreaking announcement that newly designed NAILMASTER produces wire nails with lengths of 50-100mm from a wire of up to 3.8mm at a staggering rate of 800 wire nails every minute.
Advantages:
Relatively high speed compared with the traditional z94 type but speed is much lower than Enkotec type.
Can make nails in precision and clean nails.
To achieve and maintain this efficient production rate, one can adjust the machine to produce maximal nail sizes. In addition to the already impressive speed and efficiency of the Wafios, it continues to impress and awe manufacturers with its fully automated and precise nail production process that results in cleanly formed nails that are already separated from remnant tip waste. This feature is prevalent among manufacturers who view highly value any feature saves them time and operating costs.
The machine produces inch-perfect nails with round heads precisely centered on the nail shafts. The Wafios master was designed to be linked with a thread roller or a collator.
The WAFIOS nail-making machine guarantees minimal and extremely tight length tolerance due to its use of the time-tested and proven chisel feeding principle together with a mechanically controlled holding tool.
In operation, the machine is easy to operate and maintain.
The Wafios features an upright design deliberately created to make the machine user-friendly and easier to use. The orientation and location of most of this machine's main components are conveniently located for easy access by the operators.
Nail manufacturers will be pleased to know that this impressively effective nail-making machine is readily available for purchase due to the relatively lower time required to assemble it. Due to its simple make, the machine only needs one cutter and one pair of jaws to produce nails effectively. This makes the machine very cost-effective.
Another resource-saving feature present in the nail master is the closed oil circuit that reduces oil consumption and extends machine availability due to the lubricating properties of the synthetic oil used.
Disadvantages:
This machine is also limited in terms of the sizes of any types of nails it can produce and hence is not suitable for nail manufacturers interested in producing several different types and sizes of nails and pins.
N-4 Series Common Type Nail Making Machine, India Technology.
Advantages:
These machines are commonly used in nail-making to produce common nails, concrete nails, coil nails, and Gi Nails.
Their nail-making production rate of 300-400kg of nails per day combined with their long terms of service makes them a cost-efficient investment for any nail or pin manufacturer. The N-Series machines are also customizable to fit the specific manufacturing requirements of each buyer.
The most significant advantage of this machine is that it is not limited in terms of the sizes and types of nails it can produce and hence is very suitable for manufacturers looking to produce several types of products without having to incur the cost of buying several types of machines. Manufacturers who own the N-4 series have the choice of producing several different types and sizes of nails.
The machine is also relatively cheaper by a considerable margin compared to all the other machines available in the market.
Disadvantages:
From the feedback of our customers, who has bought India N-4 machines before, the quality problem is the main disadvantages of the N-4 wire nail making machine.
Its weight is less than the z94 type, and the machine is not working as stable as the China nail making machines.
The India made N-4 series machine, despite being an affordable option for many nail-making factories it is still less commonly used in factories due to its nature of being prone to frequent breakdowns, reducing productivity, and increasing maintenance costs, not to mention the additional production losses that result from the time wasted during these breakdowns.
This machine is also prone to other problems common in nail-making devices, such as broken nail tips and the occasional error of producing slightly inclined nails due to a blunt blade which results from using the machine for long before re-sharpening its edges.
If the operating height is not correctly adjusted in this machine, it will likely produce slightly inclined defective nails. And due to the lack of an automated inbuilt fault detection system, the machine requires constant observation by at least one operator during production.